We all, of course, know our beloved timeline Susie. She's a little angel, helping out all Metaguards with keeping track of all the information we accumulated. But how did she come to be the archivist we all know and love? It is this story that I intend to share with you all today...
(note: events may be slightly to heavily exaggerated, embellished, or completely made up)
So, without any further ado, let's jump right in!
First, we need a family name. This is essentially the name I am referred to as ingame, so...
Next is my wonderful daughter's name...
I'll spare you some of the details. Next up is her birthday, which I actually went and dug up from the Megathread: September 22nd. Next up is my own age (22) and birthday (May 15th). And finally, because the Japanese have some strange ideas...
I'm giving her 'AB' here for two reasons: 1), it's the personality type which comes closest to my own (I don't know what mine actually is...), and 2), as a wiki page, she's a Universal Receiver. In game this will give her an additional 2 Stress at the end of every month, a tiny amount that can be ignored, and has no other effects.
So with all that out of the way, let's start our tale!
(some images ripped shamelessly from a similar LP)
There once was a city in the world of mortals.

It's king was proud of his position, and its people were arrogant about their wealth.

Its rulers made light of the gods and ceased to worship them.

Its people sank into debauchery and sloth.

The Lord became angry at this and summoned the Prince of Darkness, ruler of the Underworld.

Accepting the Lord's will, he attacked the world of mortals.
It was a once sided war...

The soldiers of the capital, grown accustomed to peace, fell helplessly before the powerful Demon Army.

The ramparts were destroyed, and the castle was engulfed in flames. It was clear to all that the fall of the castle town was at hand.
Seeing the plight of the capital, the wandering swordsman Anura threw himself into the battle against the Prince of Darkness.

One dark night, he stole into the demons' encampment, and defeated the Prince of Darkness in personal combat.
"You have beaten me! But why are you fighting for these people? It has been divinely ordained that I attack this decadent capital. It is no concern of yours. I killed only fools."
Anura didn't know how to respond.

Suddenly, the Prince of Darkness disappeared along with his army, returning to the Underworld to recover from his defeat.
"Brave warrior. You have saved the capital. It was I who foolishly brought this war upon us. It was divine punishment for my decadence. If you had not appeared, the people of the city would surely have perished along with me."
"It was my fault as well. The king and I have resolved to make a fresh start. We will work together to restore the capital."
"You appear to have been wounded. Why dont you stay in the capital, and help us to rebuild? We beseech you."
And thus Anura came to live in the capital, and to be granted a salary by the king.
One night, when the stars were shining brilliantly in the heavens, Anura felt somehow drawn to go outside...

"Anura..."

A voice called out to Anura from the heavens...

As he lifted his head, he spotted a shooting star. Before his eyes, it slowly descended to the top of a nearby hill.

He ran to the hill, There he found a floating sphere which was shining brightly.
Then, he noticed that inside the light there was a little girl...
"Anura... I am Susue's guardian, Mercury.."
"This darling child has lived in the sacred light since the time she was born."
"She is an innocent child, and knows nothing of the impure world of mortals."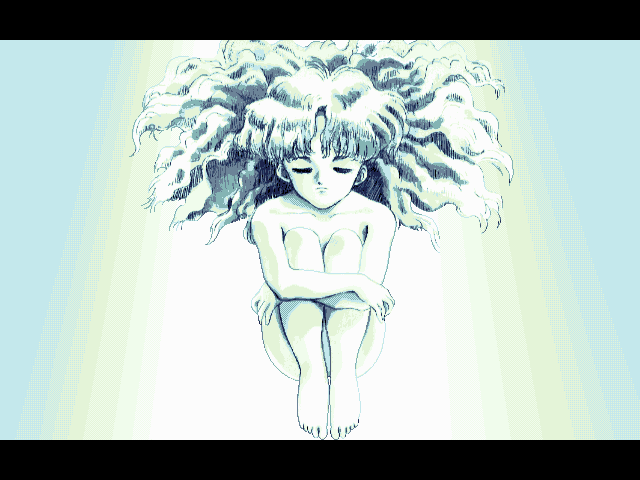 "Now, I entrust you with this child."
"Your actions alone will determine whether she will live or die, and what kind of life she will lead."
"It is all up to you."
"That is all I have to ask. I will be watching from the heavens..."
One year later...
And here she is, 10 today. The interface here only shows basic stuff, like blood type (AB), guardian planet (Mercury), that you already know. Apparently she's 4'8, weighs 85 kilos, and... are those her
measurements?!
Japan...
Here's some more in-depth stuff. Puella basically means that she's Virgo. She's in the peak of health, and dear god Japan those measurements are
to two decimals!
And finally, her actual stats. As a Virgo, she has a natural talent for housekeeping and a slightly lesser talent for magic. Shame her attributes are so low. We'll have to put her to work raising them...