Okay. I have a plan, guys. I know what I'm going to do between now and NaNoWriMo.
I have countless word documents on my computer. My problem is, in part, that I come up with vague snippets and then never move past that vague, 'interesting' phase where they are malleable. If any of you struggling out there, you might like to try this. You don't have to, I mean, this plan might not work, but hey, let's try, eh?
This is a screenshot of my current word documents folder.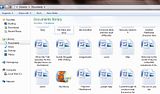 Yes that's a Yogscast headcanons folder

I FEEL NO SHAME

.
This is just the main Documents folder. I am disorganized and nothing is in the right place (yours might be the opposite in which case I envy you). There's stuff in here two or three years old and other stuff I wrote this week (that picture is organized by date opened). There are ideas, story snippets, and documents where I'm just storing information to be copy-pasted. I'm going to focus on this folder, rather than any of the ones contained.
The goal is as follows.
1. Every day I will open, in alphabetical order, one document.
2. I will examine said document, figure out what the hell I was thinking and whether or not it's relevant now.
3. I will then

do something with it

: anything at all. No matter what the document is. I'll use that document to create a story, a fanfic, a hypothetical conversation, an essay, whatever, it doesn't matter. The point is I will create

something

based on the original.

This kind of works even for people with very organized folders.


4. What I do will, of course, depend on what the original document was. But I have to do SOMETHING creative with it, even if it's just a list, or a saved copy-paste. If it's an old bit of writing, I might rewrite it. If it's an old essay, I will reconsider it from another perspective. If it's some rambling bit of stupidity I will make it sound like...

not

a rambling bit of stupidity (I thought this through guys). If it's a list of Homestuck Tiers that I thought was a great idea in the middle of the night then by gosh I will

do something with the Homestuck Tiers I thought were a great idea in the middle of the night

!
5. If by some weird twist of fate I actually LIKE the document as it is, I will simply edit it, analyse it, and move on.
6. I must try to do at least one thing a day although I can vary how long it is, depending on how much time I actually have that day.
7. There is no overall aim of this. I am not going to post the stuff I make anywhere (unless I actually really like it and want to share it and whatever).
My goal with this is to try and figure out exactly where I stand as a writer, in preparation for this year's NaNoWriMo. I just thought I'd post this here on the off chance that anybody else here a) has folders with the same level of not-organization as mine or b) just feels like wasting a few hours on the internet.
I start tomorrow.
Wish me luck. Good luck to any of you deciding to give this a go. Feel free to share bits you've been working on, or that you really enjoyed doing and share what you might have learned from the experience.