Okay, so Adell and I have been discussing the idea of running up some character profiles for you guys. We think it'd be fun to try creating a profile for everyone.
Because you know. We're completely
insane
like that.
Please note: This Thread is NO LONGER accepting sign ups.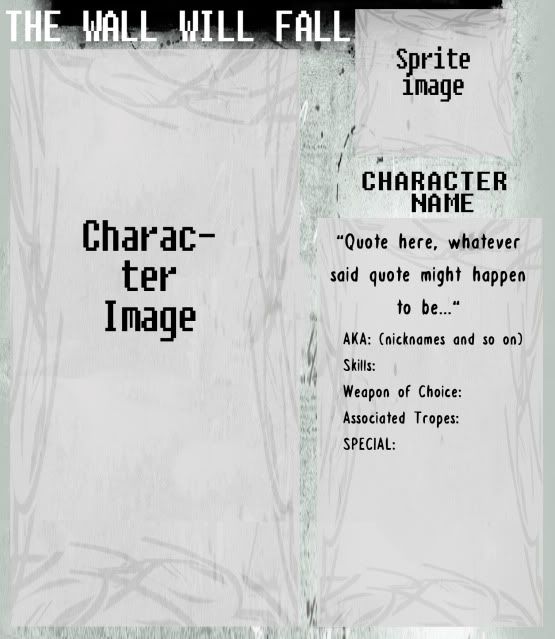 This is a rough sample of what the background page will look like, courtesy of Adell. I will be creating the drawings, in whatever way you guys prefer, and Adell will be doing your sprite version. We're going for something that looks a little bit like videogame character profiles.
No idea how many we'll actually get
done
I mean there are a
LOT
of you guys. But we can give it our best shot. There are no deadlines on this; it's just a casual thing because you know, Adell and I have lives an' stuff
(apparently I do, anyway, nobody told me about it).
Of course, we also just handed you a nice, clean, blank profile sheet, too so feel free to draw your own as well!
So if anybody wants to be added to the list of People Who Get Their Own Character Profiles Drawn? Do so here. You'll be added to the list, and we'll contact each of you individually to ask what you'd like your design to look like.
(If anyone artistically inclined out there would like to help out, feel free to PM me
)
Edited to add: You do NOT need to give us your real life pictures for this (in fact I'd rather you didn't, security and all). It's just your online persona so it doesn't even really have to look like you.
Essentials I need to know:
Name, Hair, skin, clothing, general colour scheme. Folks keep missing one or another off the list and then I have to track them down.
List of the people already being done.
7. Adell - Done to flat colours, needs to sprite himself Picture

MARKED TO BE REDONE

13.

SOHCAHTOA - On hiatus, by his request.

20.

Inukai - On Haitus as a reuslt of nil-response

23.

H - On Haitus as a reuslt of nil-response

24.

Tohr - Done to flat colours

Picture
25.

Mimsy - Pencils done

27.

IslaKariese - Pencils done

28.

Jacktheriffer - In hiatus as a result of Nil Response.

29. RotavatoR
30. BL4CK0U7_117
31. Connor Fallon
Group Shot One
Group Shot Two